Ernst & Young surveyed 100 executives from various oil and gas companies. The result shows that the oil and gas industry is embracing digitalisation.
Specifically, 89% of the respondents expect their spending on digital tools to increase in the next two years, with 25% indicating they expect this increase to be significant. More importantly, none expect their digital spending to decline.
Indeed, energy sector digitalisation is inevitable. In fact, digitalisation has been a tide sweeping through a wide range of industries. Consequently, the digital industry outpaced the growth of the global gross domestic product, growing two and a half times faster than the latter. In 2016, it was worth approximately USD 11.5 trillion, comprising 15.5% of the global gross domestic product (GDP), and projected to grow to 25% of global GDP by 2025. (Source)
According to the International Data Corporation (IDC), despite a global pandemic, direct digital transformation investment is growing at a CAGR of 15.5% and is expected to approach USD 6.8 trillion as companies become digital-at-scale future enterprises. (Source)
This year, spending on global digital transformation is expected to reach USD 1.8 trillion, and by 2025, it is projected to reach USD 2.8 trillion. (Source)
What Are Digitalisation and Digital Transformation?
Digitalisation is the process of deploying and applying digital technologies and utilising and leveraging digitised data to improve business processes. Typically, the goal is to improve efficiency, increase productivity and reduce costs.
Is digitalisation the same as digital transformation? No, it is not. However, the former is an essential component of the latter.
Digital transformation is a holistic shift in the way a business operates. Of course, the change is enabled by digitalisation and the implementation of digital technologies.
To illustrate, using machine sensors to collect a continuous stream of data is digitalisation. Even collecting data and transmitting that data to a central database is still digitalisation.
However, if digitalisation enables a fundamental change in the way the business operates and the organisation's culture, that is digital transformation. In digital transformation, there could be a transformation in the business model and the creation of new revenue and value-producing opportunities.
Using the earlier example on machine sensors, digital transformation occurs when the business shifts from time-based preventive maintenance to data-guided predictive maintenance.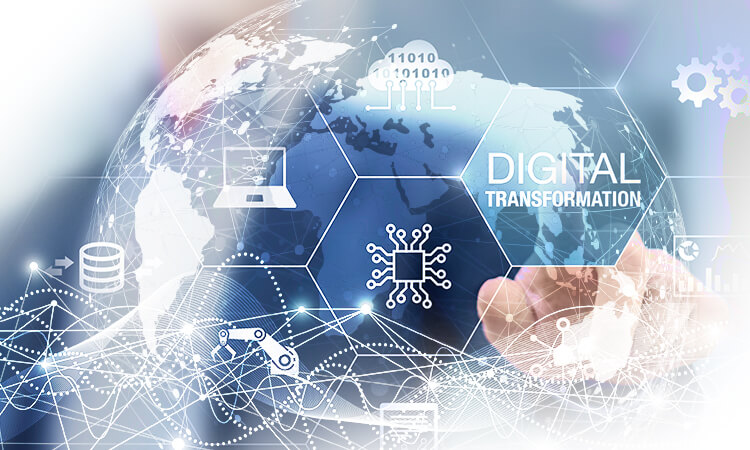 Digital Transformation in Renewable Energy
Power companies can use digitalisation to guide their digital transformation in renewable energy. Digitalisation and the future of energy — particularly renewable energy — are intertwined. 
The importance of digitalisation in energy management cannot be denied. Digital tools can integrate renewable and clean energy sources into power grids.
Digital tools can be used in energy monitoring, specifically to monitor the strength of the sun and wind conditions. Meanwhile, power consumer apps can track customer energy demands. Electric vehicle owners can use tools that empower them to plot energy consumption and optimise their charging schedules.
These technologies working together can yield data on power consumption, in general, and time-based energy demands, in particular. This can inform energy management decisions, such as building energy storage facilities to optimise supply so they can match energy demands and minimise waste.
Digitalisation also enables the development of distributed energy resources. Households can implement renewable energy technologies, e.g., install solar panels. Digital technologies, meanwhile, will link these households to the grid so they can easily sell their excess electricity to the grid. Blockchain, in particular, can enable peer-to-peer trading of electricity in a defined energy locality or community.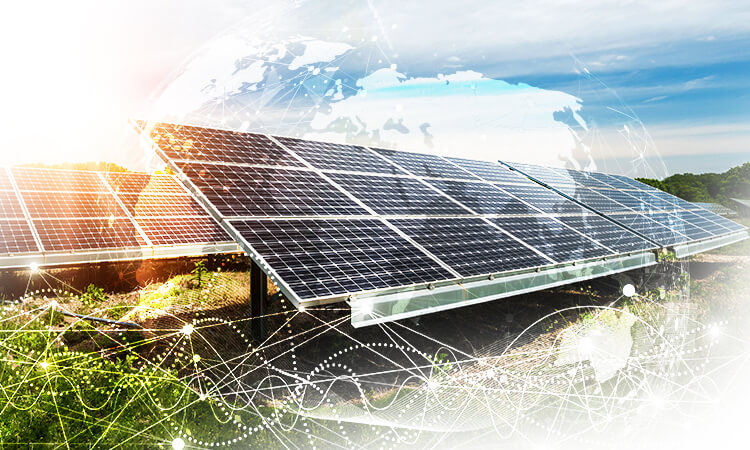 Digitalisation in Remote Land Sites and Offshore Rigs
Upstream oil and gas operations, which typically take place in offshore platforms and remote land rigs, are where digitalisation can make a significant impact on business value.
The following are digital technologies oil and gas firms can implement in their offshore rigs and remote well operations and their specific applications.
1. Industrial Internet of Things
The Industrial Internet of Things (IIoT) is a platform that uses the internet to connect assets and equipment so they can talk to each other and perform their tasks without needing human intervention.
Assets and equipment are equipped with sensors that continuously collect, monitor, and report specific data. The IIoT platform automatically performs certain actions — e.g., alert operators, initiate routine maintenance, etc. — autonomously "reacting" and "making decisions."
2. Big Data Analytics
Data collected from oil rig operations, specifically from sensors placed on assets and equipment, can be analysed to yield insights that can save the operations time and money and improve safety and productivity.
3. Artificial Intelligence
Big data analytics, in particular, can be driven by artificial intelligence for faster data crunching and processing. AI-driven systems can make short work of analysing billions of datasets. Furthermore, their machine learning capabilities pave the way for efficient, safety-driven automated responses.
4. Cloud Computing
Cloud computing helps unify datasets from various departments, breaking down data silos and ensuring AI-driven analytics will have richer data to use. This could lead to valuable insights that would have been otherwise unavailable or undiscoverable if data were inaccessible, as in the case of siloed data structures.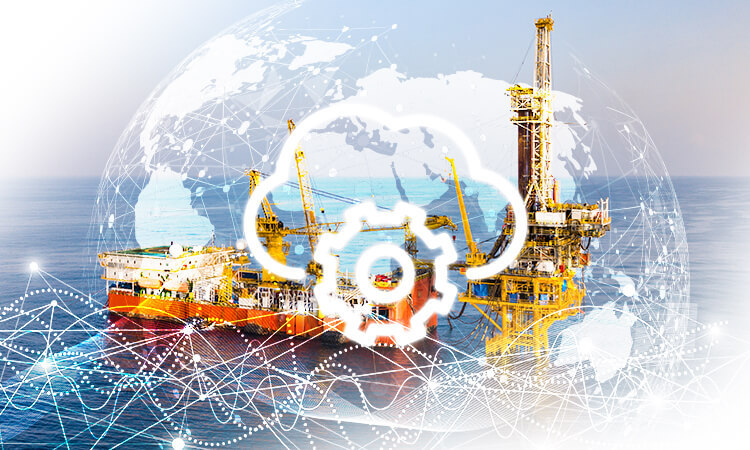 5. Robotics
Robotics with AI automates processes and helps oil and gas companies transition to humanless and remote operations of equipment in particularly hazardous environments. Crewless vehicles, for instance, can enhance a rig's deep-sea exploration capabilities. Robotics also helps minimise incidents caused by human errors.
6. Augmented Reality and Virtual Reality
Augmented reality (AR) enhances what you see with information like sensor data from equipment. Virtual reality (VR) provides immersive, simulated realities.
AR can put helpful information and insights in the hands of the person who will find them most useful — say, a frontliner in an oil rig operation. VR can provide employees with a safe environment for training in hazardous processes.
7. 3D Printing
Three-dimensional printing technologies let offshore rigs and remote sites manufacture custom parts as needed. Through IIoT, AI and robotics, the 3D printing process may be initiated, managed, and completed remotely.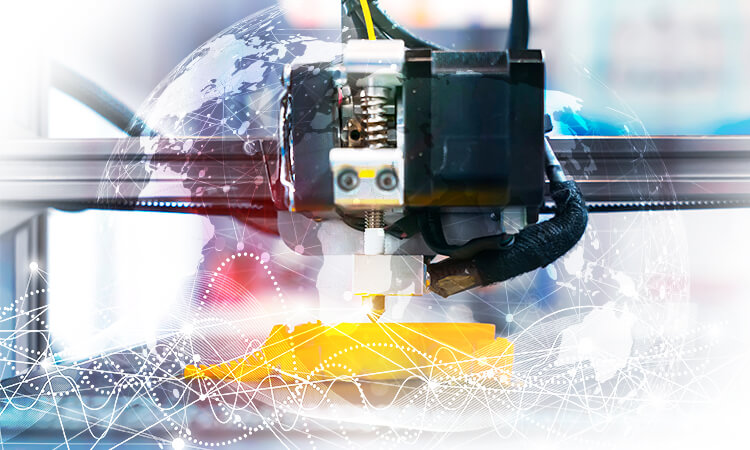 Practical Applications of Digital Technologies in Offshore and Remote Land Rigs
The following are the specific applications of digital technologies in the oil and gas industry, particularly in offshore and remote land rigs.
1. Monitor the condition of the equipment
Sensors attached to pumps will continuously monitor their operating conditions and performance. 
For instance, suppose big data reveals that a pump reaching a specific temperature at least five times in a month increases the likelihood of it malfunctioning in the next month. In this case, the system could flag pumps reaching this threshold for maintenance. 
This will help prevent downtimes and production losses when pumps malfunction in operation. This will also minimise costs because companies need only maintain those that require maintenance (i.e., predictive preventive maintenance) rather than initiating periodic preventive maintenance.
2. Get real-time insight on well performance
Data from wells will help operators immediately identify underperforming wells. This will help them run troubleshooting diagnostics on underperforming wells. Furthermore, since they can respond by increasing the production of other wells, as needed, they can prevent under-capacity production issues down the line.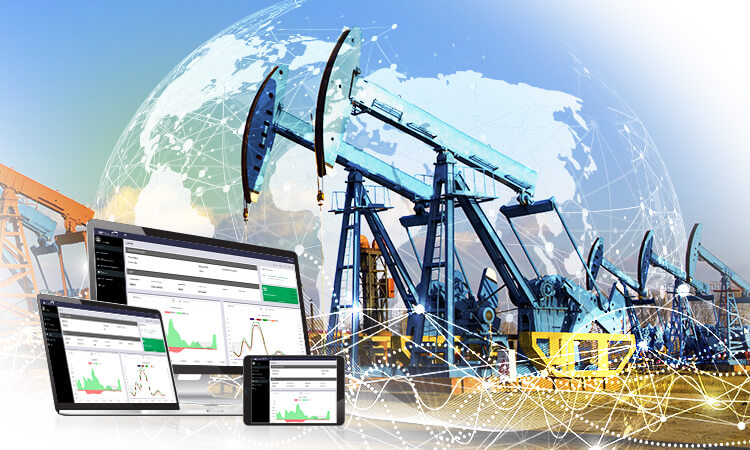 3. Gain real-time drilling information
Sensors attached to the drill string can provide real-time measurement data that can help operators adjust steering and avoid drilling problems.
4. Prevent accidents from occurring
Through strategically placed sensors and surveillance systems focused on dynamic barrier systems, operators will always have information on the condition of their dynamic barriers. This will help prevent blow-ups and other incidents that could cost employees' lives, cause facility and equipment damage and lead to production delays.
5. Prevent accidents from recurring
When an incident at an oil rig occurs, an oil and gas company can analyse the data reported by the facility and the malfunctioning equipment. AI can perform forensic analysis of the incident and spot patterns that probably led to the incident using data from the malfunctioning facility and functional sites. This will help the company avoid recreating the same conditions and thus prevent another incident.
6. Monitor energy efficiency and emissions
In digitalisation, energy efficiency attainment is a common goal. Through digital technologies, oil and gas companies can monitor their systems for energy efficiency.
AI systems can also make simulations to provide recommendations on how companies can improve their energy efficiency and achieve their emission goals. They can even identify gaps and areas for improvement in companies' digitalisation for energy efficiency measures.
Satellite Communications: Enabling an Energy Digitalisation Strategy
Digitalisation can be challenging in remote offshore and onshore oil rigs. An essential element of energy sector digitalisation is internet connectivity.
IEC Telecom enables remote sites and offshore platforms to implement digitalisation strategies through a bespoke offshore communication system powered by satcom technology.
Here are a few of the off-the-shelf solutions IEC offers that may be tailored to energy sector players' specific requirements.
1. OneGate: Dedicated Platform for Digital Operations
At its heart, OneGate is a network management solution. Depending on network availability and cost-efficiency, it can operate in either satcom or GSM mode. It also provides faster connection speeds through TCP compression, redundancy elimination, TCP Acceleration, and other such connectivity optimisation methods.
OneGate provides a virtual environment for remote rigs to store their critical applications such as remote monitoring, remote maintenance, and communications tools. In other words, OneGate Energy makes a handy launching pad for useful digital technologies.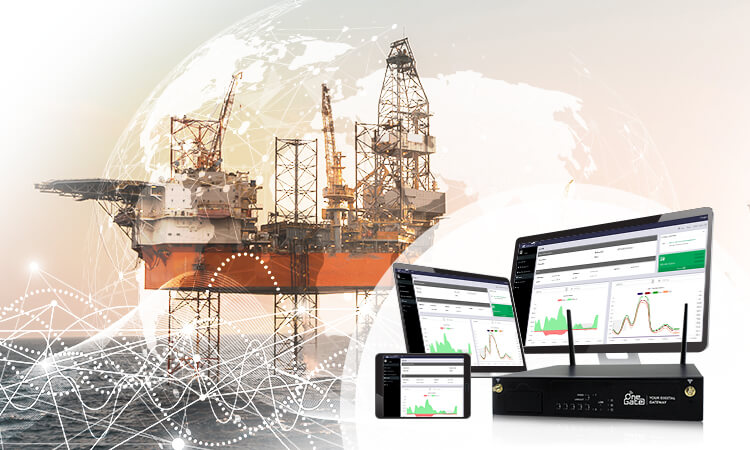 OneGate provides an onsite dashboard for field operators to access, but it also provides a convenient remote dashboard for headquarters and offsite teams. This ensures that the satcom infrastructure may be updated and maintained remotely, helping the company save on transport costs and logistical delays.
OneGate also keeps the corporate network separate from the staff network. This means staff will have internet connectivity for personal requirements, which could significantly increase employee satisfaction.
Nevertheless, OneGate ensures that the welfare network will not eat up the corporate network's bandwidth allocation. Thus, business-critical communications and applications can continue operating without any disruption. This also ensures that the welfare network will not compromise the integrity and security of business data.
2. IEC Welfare
IEC Welfare is a fully integrated internet connectivity solution for remote land rigs and offshore platforms.  Powered by YahClick and enhanced by IEC Telecom, IEC Welfare combines a controlled welfare link with a secure corporate link. IEC Welfare provides a secured link for corporate communications. Manage bandwidth, monitor usage consumption and control your budget in real time. In addition, benefit from our experienced 24/7 customer support.
You can use this to provide internet connectivity to the field and onsite personnel, all without impacting your business communications and connectivity-reliant business-critical operations.
Use this solution to reduce employee attrition rates and improve your ability to attract talent.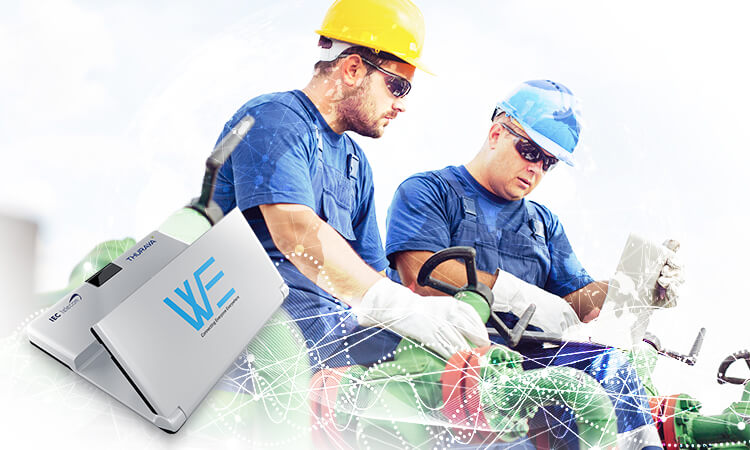 3. M2M Systems
IEC Telecom offers a wide range of M2M terminals that will let you remotely monitor your distant and outlying infrastructure. This will improve asset management and minimise site visits, which means transportation cost savings.
4. Remote Maintenance
An offsite expert no longer needs to travel to the site to provide support in troubleshooting and maintenance. Through remote maintenance solutions, onsite staff can act as the conduit for offsite experts working on onsite equipment and systems.
Moreover, OneAssist offers a hands-free approach by being accessible over an HD display on a rugged head-mounted device. With OneAssist, onsite staff can conduct multi-party video and audio calls for easy collaboration and resolve 80% of technical concerns over remote access. Such state-of-the-art communication solutions have been developed keeping in mind IoT data visualisation and unmatched noise cancellation to ensure both operational efficiency and remote worker safety.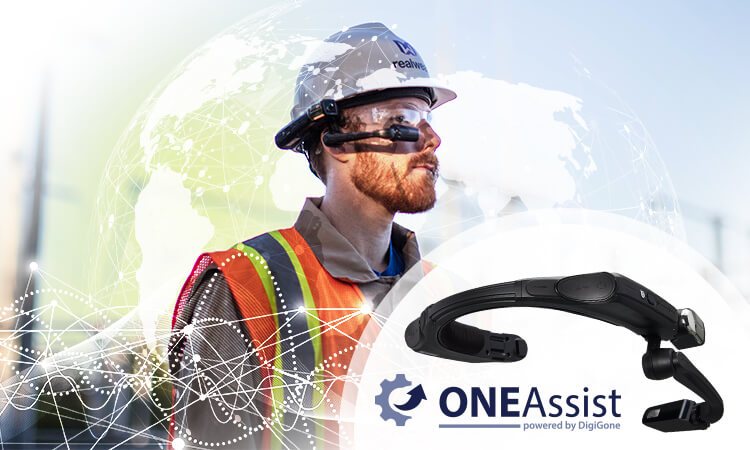 5. Communications Applications
Videoconferencing, email, voice, and data solutions ensure that onsite personnel get immediate feedback and instructions from headquarters. Likewise, it ensures that headquarters can get timely information from the site.
6. Location and Tracking Service Solutions
You can equip your onsite personnel with satellite phones and devices that will allow you to monitor their real-time location. Providing your site employees with this information will also make collaborating on tasks easier, as it will help staff locate their colleagues when they need them.
Employees may also be given wearable devices that track not only location but also biometric data. This way, the site or headquarters can be alerted immediately when an employee sent off to a remote location is in medical distress.
7. Remote Surveillance
Remote surveillance solutions will rig your site with video cameras for 24/7 monitoring of your business operations and valuable assets. The solution can also detect intrusions and provide enhanced 3D interpretation of video feeds if needed.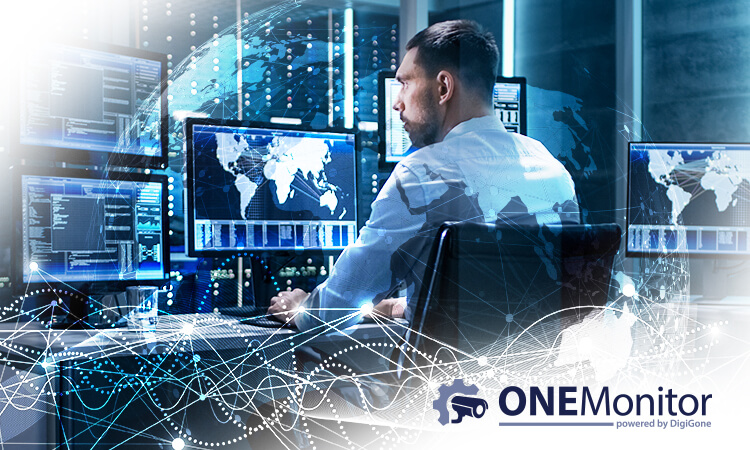 Make the Transition to Digital Now
The energy sector is ripe for digital transformation, and data shows the industry is more than ready to embrace its digital era. However, digital transformation does not simply mean using digital tools and technologies. It is a thoughtful, strategy-driven process that uses digital tools and technologies to transform the way a company does business.
Therefore, digital transformation is not a one-size-fits-all undertaking. It requires a customised approach.
IEC Telecom offers just that — a customised digitalisation enablement solution through turnkey, integrated satcom solutions.
Enquire about our energy sector digitalisation solutions today.